Paros diving is a very popular activity on the island, as Paros is surrounded by a marvelous seabed with gorgeous reefs, caves, abandoned wrecks and uninhabited islets worth discovering.
Paros diving centers can be found at some of the most popular spots of the island such as the Golden Beach and New Golden Beach, Santa Maria, Naoussa and Parikia. Paros diving centers welcome visitors to experience the most unforgettable diving adventures no matter of their age or skill level as they feature certified instructors that teach courses to introduce visitors to the magic world of scuba diving with utmost safety and precaution.
Some of the most popular Paros diving sites include the Bubble Reef, the Stringway Point, the Barracuda Point, the shipwreck of MS Samina and the cave of Panderonisi.
Let's get a closer look at some of the best Paros Scuba Diving Centers to find the one that best fits your needs.
Eurodivers Club in Paros
Situated on Pounda beach, this Padi registered Paros Scuba diving center has been around since 1995 guiding adventure seekers through the magical world of the seabed of Paros.  The center offers scuba diving equipment and courses for all ages and levels of expertise led by highly trained and experienced instructors. Eurodivers Club also holds a PADI Rescue Diver Course training divers to handle emergency situations. Besides the scuba diving trips to some of the best diving sites in Paros, Eurodivers also organizes boat excursions and private cruises to nearby beaches, reefs, islets as well as the neighboring islands of Naxos and Antiparos where attendees can swim, snorkel, and explore their surroundings.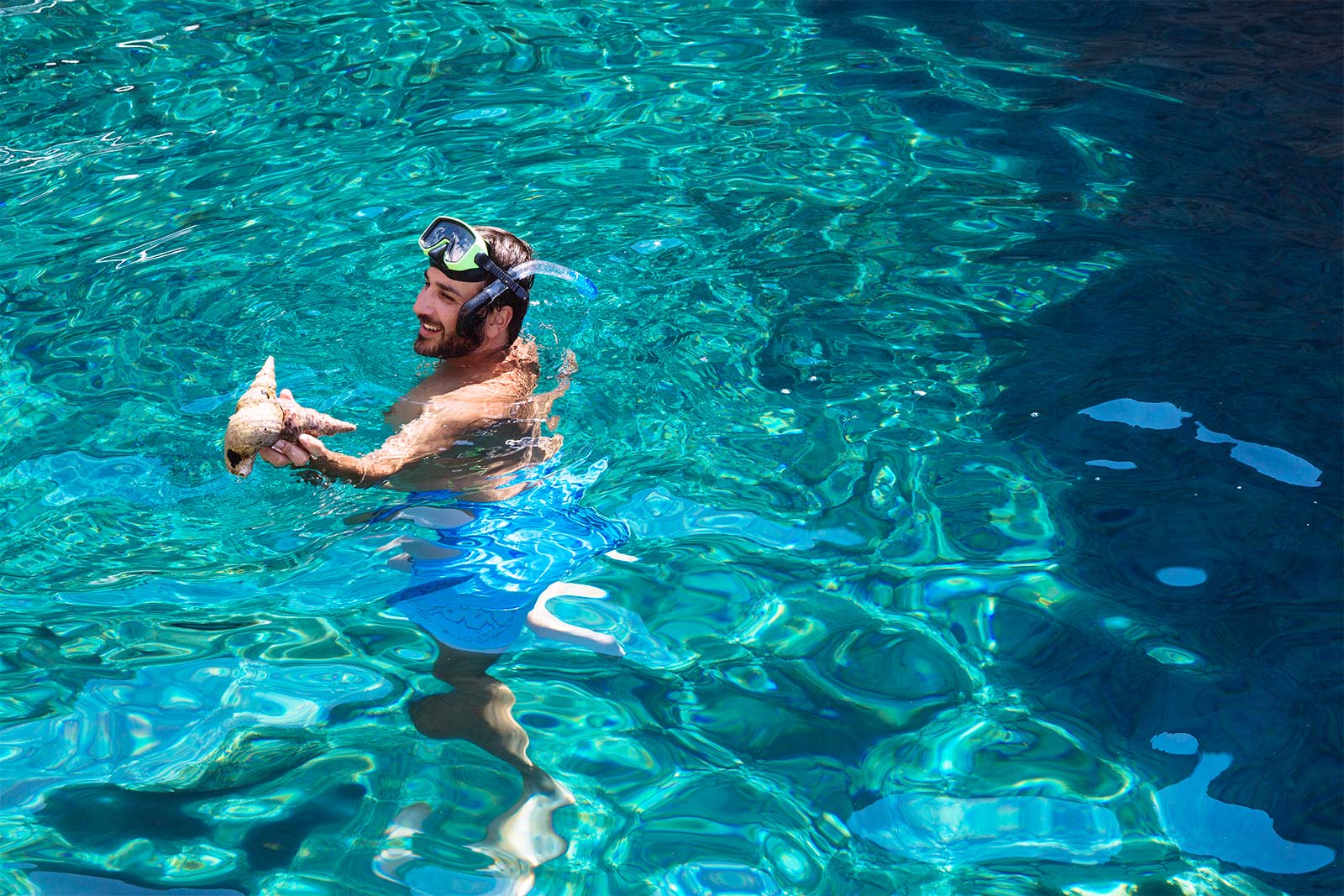 Paros Diving Center in Paros
Conveniently situated on the Golden beach, Paros Diving Center was established in 2016 by a team of professional divers who share the same passion for the sea and for exploring new destinations. Get ready to discover the most fascinating diving spot on the island and enjoy a diving experience unlike any other.
Cycladic Diving in Paros
Located near the fishing village of Aliki, the Cycladic Diving Center in Paros offers all that you may need to explore the seabed of Paros. Padi Courses from beginner to advanced levels, guided diving and snorkeling tours, trips to some of the island's most enthralling diving sites as well as all diving equipment and gear they may need. The Cycladic Diving Center also organizes the International Cleanup Day gathering scuba divers and water sports adventurers to share their environmental values and help inspire others.
X-ta-sea Divers in Paros
Strategically situated on the beautiful beach of Santa Maria that offers the perfect weather conditions for diving as well as the best diving sites close by, X-ta-sea is a professional diving center offering several courses for diving and scuba diving for all ages and levels of expertise as well as course certifications. This diving center features a dive shop in the village of Naoussa with diving equipment and gear of all kinds as well as its base in the stunning area of Santa Maria in Paros.
Ready to scuba dive and explore the world of Paros underwater?