The island of Paros is situated in the insular complex of the Cyclades, and it is well known for its stunning beaches, traditional architecture, party scene and utterly charming villages. Are you ready to explore and learn more about the gorgeous Paros villages? Let's take a quick look.
Parikia: Parikia is the capital of Paros as well as its main port, known for its bustling nightlife, picturesque beauty, beautiful beaches, mix of modern and traditional architecture as well as its main attraction, Panagia Ekantotapiliani, dating back to the 4th century AD.
Naoussa: The fishing village of Naoussa is situated on the northern coast of Paros Island. It is a cozy and charming village with white-washed buildings, narrow streets, and colorful balconies.  Naoussa's scenic harbor is lined with a variety of cafes, bars and restaurants and it is a very popular spot for yachting and sailing enthusiasts.
Lefkes: The traditional mountain village of Lefkes, former capital of the island, is set in the heart of Paros. It is a must-visit village as it boasts an amazing atmosphere with stone-paved streets, beautiful churches and white-white houses that will take you back in time.
Piso Livadi: A charming fishing village for those seeking to unwind in its peaceful atmosphere and enjoy the slow pace of island life. Piso Livadi is well known for its beautiful beaches and traditional taverns.
Aliki: Aliki is an authentic fishing village on the southern coast of Paros with a harbor popular for fishing and sailing. The village is mostly known for its sandy beaches, calm waters, and beautiful sunsets as well as its seafood restaurants.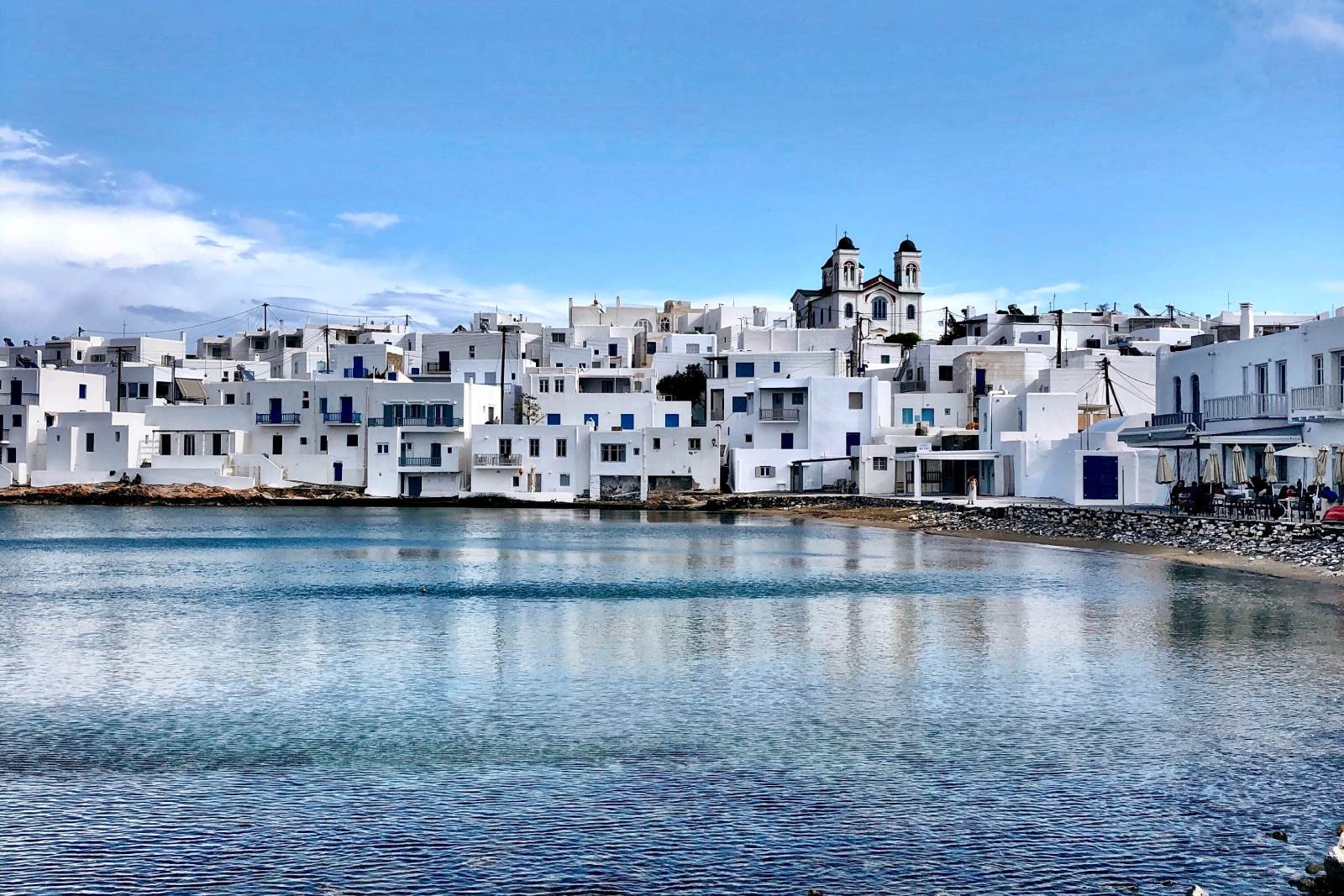 Marpissa: The artistic village of Marpissa is home to many galleries showcasing the art of local artists. Lose yourself in the winding streets as you marvel the traditional architecture and white-washed houses.
Drios: Situated on the southern coast of Paros, Drios is a charming fishing village where visitors can relax, enjoy their swim in crystalline waters, bask in the sun on the many sandy beaches and enjoy authentic recipes in traditional taverns.
Kostos: Enveloped by vineyards and olive groves, Kostos welcomes guests to experience the island's rural charm, explore its traditional architecture, beautiful churches, and breathtaking views to the Aegean Sea.
Prodromos: Prodromos is a small village nuzzled in nature's embrace. Surrounded by olive groves, the village evokes an aura of bliss and euphoria inviting visitors to stroll around its narrow streets, take in the stunning views to the island's mountainous landscape and marvel the traditional architecture.
Marmara: Yet another traditional village in the heart of Paros worth discovering. It is a place with narrow streets, traditional churches and authentic Cycladic architecture emanating a rural charm.
Krios: Located on the northern coast of Paros, Krios is a small village known for its stunning beaches, crystal-clear waters, and traditional taverns.
The many gorgeous Paros villages are certainly worth exploring. From traditional mountain villages to small fishing villages, all with their own character and charm, Paros villages have something for everyone.