The Golden beach, also known as Chrissi Akti, is the largest and one of the most beautiful and popular beaches in Paros. Named after its gold powdery sand, Golden beach in Paros is the perfect choice for friends, families, and adventure seekers.
Situated only 15 km from the village of Naoussa and 19 km from the capital of Parikia, the Golden beach can easily be reached by bus from both villages or by car. Driving to the beach is an experience in itself as the route takes you through scenic villages and once you get to the Golden beach you can easily park your car at the large parking lot situated nearby.
Due to the perfect wind conditions, the Golden beach is famous for its watersports and windsurfing facilities attracting visitors from all over the world especially during August when it hosts the Professional Windsurfing World Cup.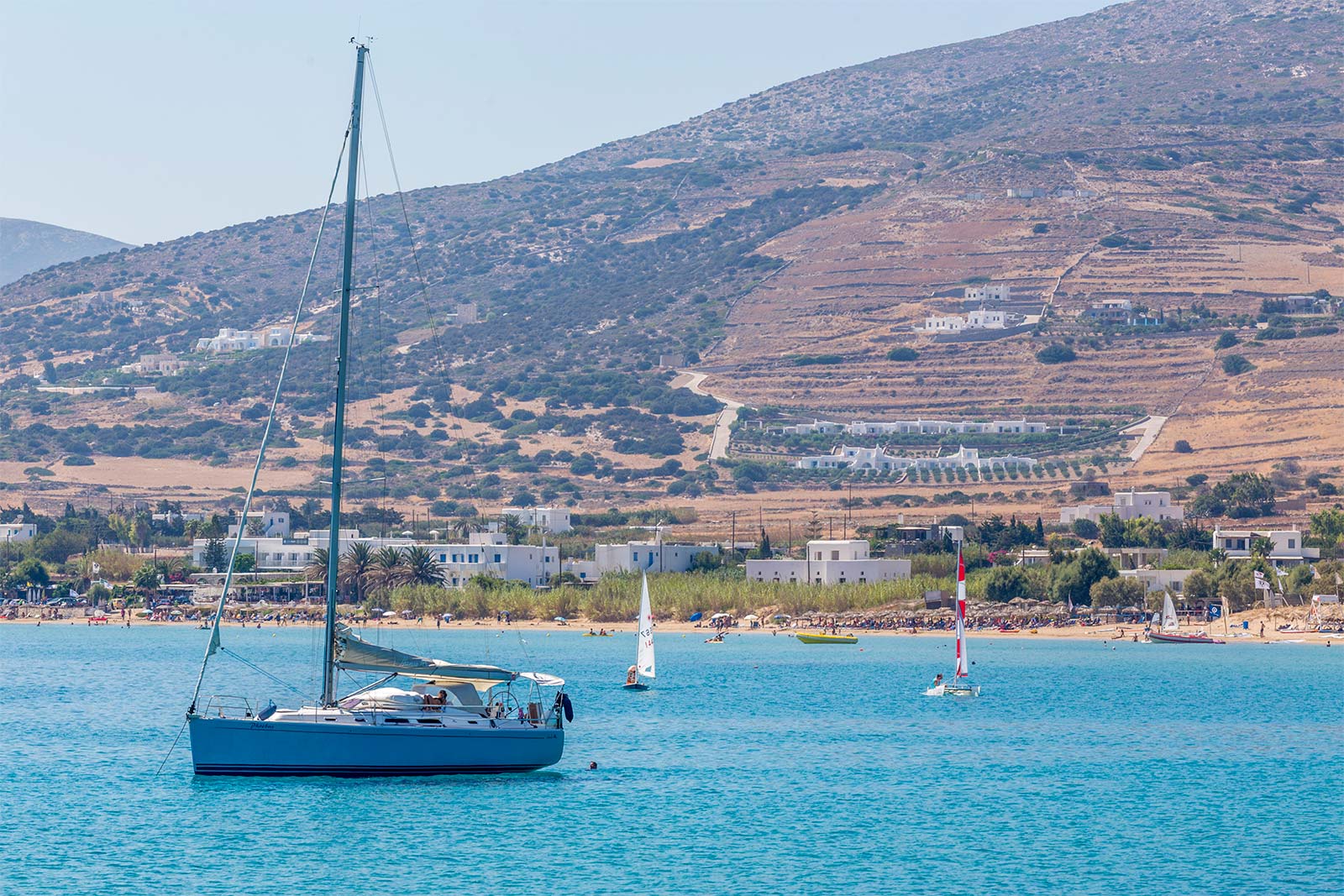 Activities in Golden Beach, Paros
If you wish to know more about the Golden beach Paros activities, let's just say that the Golden beach is the Mecca of water sports enthusiasts featuring a Paros diving center as well as water sports equipment for Windsurfing, Kitesurfing, Waterskiing, Board sports, Water games, diving, snorkeling, and scuba diving.
Dotted with sunbeds, umbrellas, cafes, beach bars, restaurants and water sports centers, the Golden beach will sure cater to every need and budget. The long stretch of sand also allows families with young children to find their very own spot to place their umbrella and enjoy their peace and quiet. The blue flag beach also features trained lifeguards and information kiosks making it even safer for families that wish to enjoy the sea and the sun without any worries.
The Golden beach is surrounded by many rental rooms, hotels, and apartments for all types of visitors that prefer to stay near the beach. Poseidon of Paros is situated only a breath away from the beach and welcomes you to experience the most amazing holidays in Paros that will exceed your expectations.
The easy access, golden sand, crystalline waters, ample space, excellent tourism infrastructure and wind conditions have made the Golden beach a number one choice for anyone wishing to relax on the beach, swim, sunbathe or try out some water sports adventures.
Who is ready to head to the beach?