Covering a sun kissed coastline of stunning beaches, picturesque harbors and breathtaking natural formations spreading over 200 km, the island of Paros welcomes guests to experience the Greek sun and sea in the most magical way.
The beaches of Paros are considered to be some of the most beautiful beaches in the Cyclades Island complex offering something for everyone, surfers, water sports enthusiasts, couples, and families alike.
Distinguished for their crystal-clear turquoise waters and the laid-back atmosphere, Paros beaches attract travelers from all around the world as they appeal to all tastes and preferences. Some of the best beaches in Paros are lined up with seaside hotels, cafes, restaurants, and bars while others are more secluded becoming an ideal choice for visitors who would rather hide away at some of the more serene and quiet beaches in Paros.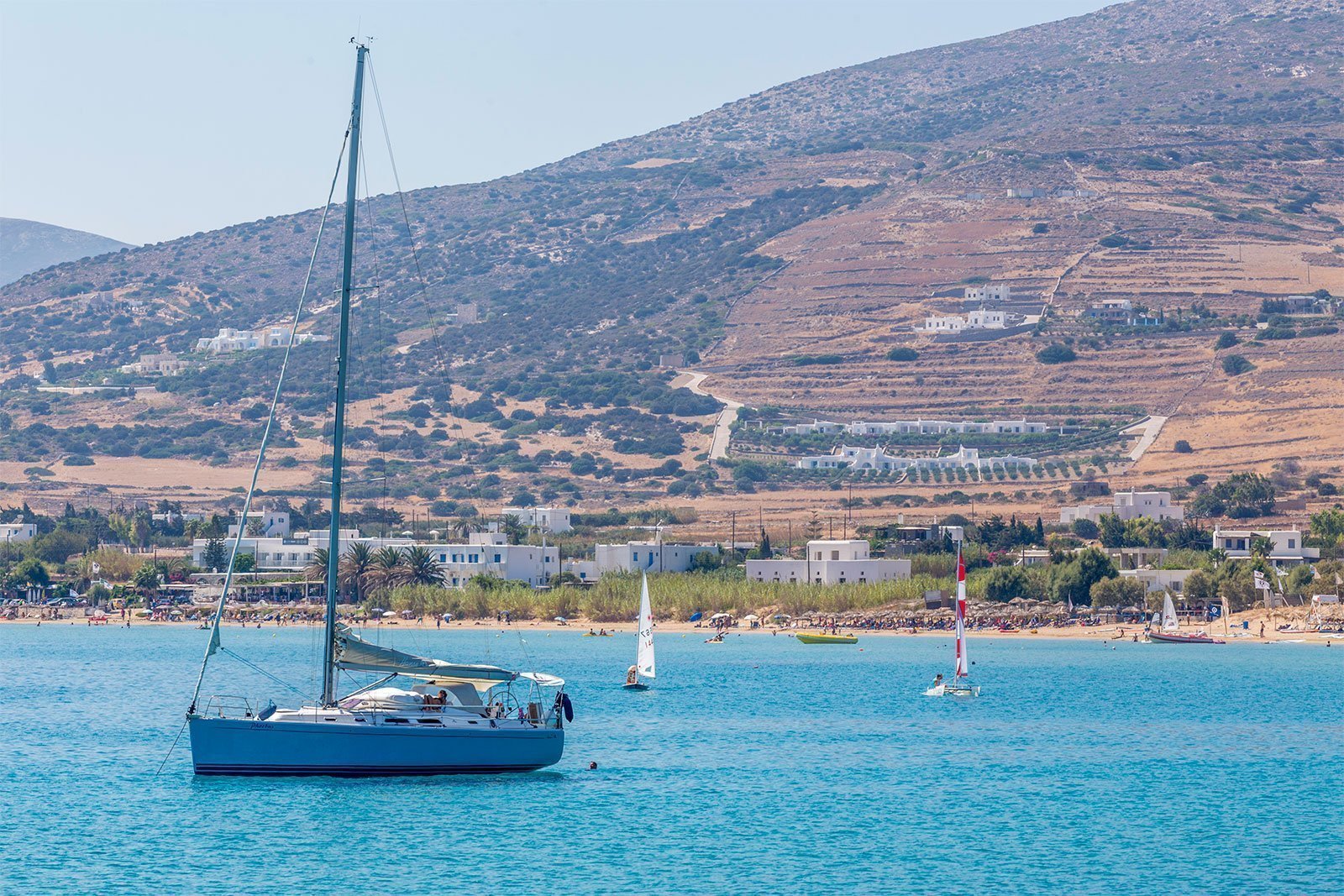 Sandy beaches in Paros
Poseidon of Paros is set right next to one of the most popular and best sandy beaches in Paros, the Golden Beach situated about 19.5 km southeast of Parikia. The Golden Beach is fully organized, and it is a family friendly and favorable spot for surfers and watersport fanatics. The next beach on our list is the must-see beach of Kolymbithres, named after its rock formations, that is also fully organized with two water sports centers offering several activities for everyone to enjoy.
The golden-white Santa Maria Beach is a beautiful, organized beach near Naoussa with clear shallow waters, ideal for swimming, snorkeling, and other watersports activities.
Marchello is a long sandy beach close to Parikia with a vibrant party atmosphere. Very well organized, the beach offers a great array of beach bars and water sports.
Very close to Parikia, Krios beach is preferred by both locals and visitors due to its clean cool waters and close proximity to the island's capital.
Farangas comprises of three consecutive beaches of soft golden sand and shimmering blue waters in the region of Alyki. The central beach is organized with umbrellas and sunbeds while the other two remain intact.
Also worth noting are the isolated and nudism-friendly beach of Langeri, Livadia beach, which is the closest beach to Parikia, the small rocky bay and beach of Monastiri, as well as the picturesque village and beach of Alyki with its fluffy sand.
No matter what your personal preferences are, one thing is certain, that the beaches of Paros will give you a reason to return to the island, again and again.